Handlebar Vibration Dampener Conversion Kit

---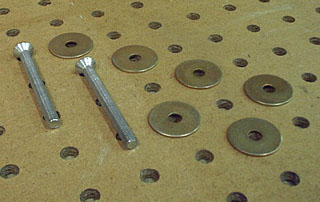 I sell two different styles of vibration dampeners for Suzuki Intruders. One type is designed for folks with 2000 and newer bikes who want to keep their stock grips and bar-end weights. The other style is for folks with Intruders older than 2000 or who have replaced the stock grips on their 2000-up bike.

This kit allows people who have purchased the "pre-2000" style dampeners to use them on a 2000-up Intruder with stock grips and bar end weights. This might be useful if you were using the other style on an older bike, and just purchased a new one, or perhaps you were using aftermarket grips on your 2000-up bike and have decided to go back to the stock grips.

This kit contains two 6mm-1.0 machine screws, six steel shims and the installation instructions for the 2000-up version of the vibration dampeners. (These are the same instructions that you would receive if you were to purchase the SP50003 vibration dampeners.)

Note: The design of the weights in my vibration dampeners changed slightly in December 2003. The older dampeners have a 1/4-20 threaded hole whereas the new weights have a 6mm-1.0 thread. As a result of this change, this conversion kit will unfortunately not work with the older vibration dampeners. If you aren't sure whether you have the new or old style dampeners, just check the thread in the weight. If it is 1/4-20 then they are the older style; if it is 6mm-1.0 then they are the newer style, and will work with this conversion kit.


---
---