Beta Testing and Prototyping
---
3.8L V6 Mopar Minivan intake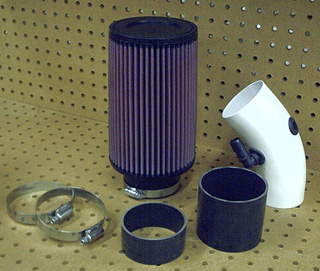 Because this is a new product, I do not have a complete knowledge of which model years it will fit. As such, I am offering a 10% discount for providing me information regarding the install on your own vehicle. The process goes something like this:
You contact me to let me know you are interested in beta testing the intake on your vehicle
You purchase the kit
You install it on your vehicle and report back to me
I send you a check in the amount of 10% of the purchase price (note: the purchase price does not include shipping) - or, this amount will be credited back to your credit card/paypal account if you paid that way.

If you are interested in doing this, please contact me at jon@steigerperformance.com first so that we can discuss the vehicle you want to try it on.

Models that have already been tested are as follows:
2001 3.3L V6
2001 3.8L V6
2002 3.3L V6
2002 3.8L V6
2003 3.3L V6
2005 3.8L V6
If your minivan isn't listed above, then it is probably still eligible for the discount. (Contact me to make sure.)

If for some reason the kit does not work, then I would be happy to refund your purchase price (minus shipping) if you can return it to me in re-saleable condition.

Click here for more information on this product.
---
As always, if you have any questions, comments, etc. then please feel free to get in touch!
---
| | |
| --- | --- |
| Home | © 1999-2018 by Steiger Performance. All rights reserved. |