EGR block-off plate and bolts
(For 1992-1995 Dodge V6 or V8 Magnum trucks)
---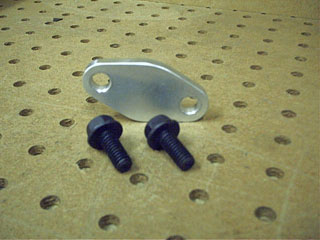 This is a CNC machined aluminum plate which will allow you to block off the EGR (Exhaust Gas Recirculation) port on your passenger side exhaust manifold or header. Most commonly, this is done by people who are installing an aftermarket intake manifold without EGR provisions or racers looking to eliminate the EGR system.

This plate will also be useful to anyone looking to run '92-95 exhaust manifolds or headers on a '96+ engine. Because there is no EGR provision on the '96+ engines, you will need to block off the port on the '92-95 exhaust manifolds or headers.

Please keep in mind that if you are looking to block off the EGR on your '92-95 engine and are keeping the stock "beer barrel" style intake manifold, there is also a port on the intake itself which you will need to block off by installing a plug, removing the EGR valve and fabricating a block-off, or welding it shut. This plate has no provisions for the intake itself, it merely allows you to block off the port on the exhaust manifold or headers.

Also included with the plate are two grade 8 bolts so that you do not have to re-use your stock ones (which are probably rusted and mangled anyway). These bolts have a much larger head than the stock bolts which will help to prevent rounding them off. If you have already removed your EGR bolts (or attempted to) you already know what a pain it is, and how easy it is to round off those bolt heads.

I recommend using an EGR gasket to help create a good seal. Mopar's part number for this gasket is 53010000. This gasket is not included, you will need to purchase it separately. Cost of the gasket is usually less than $3.00.

No instructions are provided with this block-off. You will receive the aluminum block-off and bolts only.



---
---