Suzuki Intruder Handlebar Vibration Dampers


Note: These dampers are designed to be used on model year 2000 and newer Intruders with stock grips and bar-end weights. If your Intruder is a 1999 model or older, or if you have a 2000-up Intruder but have installed aftermarket grips, then you should use my Universal Motorcycle Handlebar Vibration Dampers, part number SP50006 instead.
---
General Info
When I first bought my Intruder 1400, my only real complaint was that my hands would frequently fall asleep; I'd be constantly clenching my fists or slapping my hands against my legs to try to get rid of the "pins and needles". This is caused by vibration, and it affects some people more than others.

Handlebar vibration is a fact of life when you ride a big v-twin, but there are certain things you can do to reduce it. One of these is by rubber mounting the engine and the handlebars; Suzuki took care of this at the factory. Another step that some manufacturers take is to mount weights in the handlebars. What this does is to increase the mass of the ends of the handlebars, and therefore, the amount of force required to move them. Vibration is a "cycle"; it moves an object in one direction, stops it, then moves it back in the other direction before stopping it and starting the cycle all over again. By making the object heavier, we increase its inertia; its tendency to stay at rest while at rest and its tendency to stay in motion once moving. If we make the handlebars heavier, the vibration will still try to move it in the same way as before, but now it must put a much heavier object into motion, stop it, move it back in the opposite direction, etc. What this means in practical terms is that the movement will be less, since more of the "input" energy is dissipated.

Starting in the 2000 model year, Suzuki added handlebar vibration dampers to Intruders in the form of ~8.4 ounce bar-end weights. What my vibration dampers do is to work with the stock weights. By attaching directly to the stock weights, my ~10 ounce weights give you approximately 18.4 ounces of weight in each grip, or 2.3 pounds of vibration dampening mass, total. (That's 1.25 lbs more than stock)

So, do they work? Yes! I'm using them on my 1400, and I'm happy with the results. Note that although a vibration damper won't completely eliminate the vibration, they WILL reduce it, and every little bit helps!

For details about what exactly is involved to install these dampers, check out the full color install instructions in Adobe PDF format.



---
Applications
These dampers were designed for 2000 and newer 800, 1400 and 1500 Suzuki Intruders with the factory style grips and 1.3" length bar-end weights. (Some models were manufactured with a bar-end weight which is longer than 1.3". If your bike is one of those and you are interested in this kit for your bike, please contact me - if you give me the length of your bar-end weights, I can provide you with a kit that will work with them.)

(If you have an older Intruder or have replaced your grips with a style that eliminates the factory bar-end weights, don't worry - I've got you covered too! You want part number SP50006 instead.)
---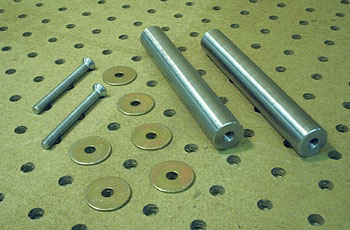 Pictured on this page are the components included in the kit. You will receive two 5" by 3/4" stainless steel weights, six steel shims, and two 6mm-1.0 machine screws. You will also receive illustrated installation instructions. The only tool required for installation is a Phillips head screwdriver.



---
---