Steiger Performance Window Retaining Clip
For "ball stud" style window brackets as installed in all 2002-2005 and some 2006-2007 Jeep Liberty models*
| | |
| --- | --- |
| * | This clip will fit the 2002-2005 Jeep Liberty, as well as some 2006-2007 models. If your Liberty is a 2006 or 2007, please be sure to check out the Applications section to find out if this clip will work on your vehicle. |
---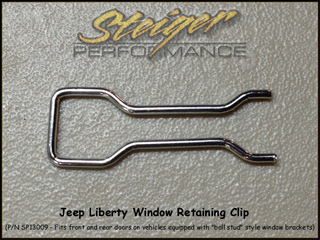 These clips are used to attach the window bracket to the window glass, and are compatible with the metal replacement window bracket included in my repair kit as well as the plastic factory window bracket.

Like everything else on the Liberty window regulator, these clips are not available separately from Jeep, so if you happen to lose one, you were out of luck, unless you wanted to buy a whole new window regulator! It is for that reason that I have made available this replacement window clip. It is a spring steel duplicate of the factory clip, so it is compatible with the factory bracket as well as my repair kit.

Whether you are looking to replace a lost clip, or want to purchase an extra to have on hand just in case, this clip will fit the bill.

---
Lifetime Warranty



I stand behind my product and I want you to be happy with your purchase.

Each clip is warranted to the original purchaser to be free from defects in materials and workmanship for as long as you own it.

I am very careful during the manufacturing process and quality control inspection to weed out anything that could potentially cause a problem down the road. However, as is the case with any mechanical item, there is always a chance for failure no matter how controlled the manufacturing process may be. As such, should this clip break or prove unsatisfactory to you, please contact me and I will be happy to replace it or refund your purchase price. (In the event of a warranty claim, you will be responsible for the postage cost to mail the broken part back to me, but I will cover the cost of shipping the replacement to you.)


---
Applications



This window clip kit is used in the 2002-2005 Jeep Liberty, and it will also work on certain 2006 or 2007 model year Libertys which have been retrofitted with the "ball stud" style window brackets. If you are not certain if your Liberty uses this clip, I would recommend popping open the door panel and taking a look inside. You can compare your window bracket to the photos in my spotter's guide. If you have the "ball stud" style window bracket, then this clip is what you need. The front door regulators require two clips per bracket, the rear door regulators use just one per bracket.
---
---
---
| | |
| --- | --- |
| Home | © 1999-2021 by Steiger Performance. All rights reserved. |