Motorcycle Handlebar Vibration Dampers - for 1" handlebars

---
General Info
I love to ride, but with some bikes, handlebar vibration can really detract from the experience. Sometimes when I am riding, my hands will fall asleep; I'll be constantly clenching my fists or slapping my hands against my legs to try to get rid of the "pins and needles". This is caused by vibration, and it affects some people more than others.

Handlebar vibration is a fact of life when you ride a motorcycle, but some bikes are worse than others. There are certain things you can do to reduce it. One of these is by rubber mounting the engine and the handlebars; another step that some manufacturers take is to mount weights in (or on) the handlebars. What this does is to increase the mass of the ends of the handlebars, and therefore, the amount of force required to move them. Vibration is a "cycle"; it moves an object in one direction, stops it, then moves it back in the other direction before stopping it and starting the cycle all over again. By making the object heavier, we increase its inertia; its tendency to stay at rest while at rest and its tendency to stay in motion once moving. If we make the handlebars heavier, the vibration will still try to move it in the same way as before, but now it must put a much heavier object into motion, stop it, move it back in the opposite direction, using the same amount of force as before. What this means in practical terms is that the movement will be less, since more of the "input" energy is dissipated.

Around 2000-2001, I developed a kit to dampen the handlebar vibration on my 1996 Suzuki Intruder 1400, and made it available as a Steiger Performance product at that same time. I have been selling those to satisfied customers for the past 15 years or so. The product on this page is an evolution of that design - I kept the basic design the same, simply changing the attachment method to allow these dampers to be universally installed in just about any motorcycle with 1" bars.

My vibration dampers are inserted into the ends of the handlebar and lock into place using a silicone retainer. Each damper weighs approximately 10 ounces, giving you an additional 1.25 pounds of dampening mass in the handlebar.

So, do they work? Yes! I use them on my own bike, and I'm happy with the results. Note that although a vibration damper may not completely eliminate the vibration, they WILL reduce it, and every little bit helps!
---
Invisible Install
You may have seen motorcycles with bar-end weights hanging off the end of their handlebars. Some bikes have factory installed bar-end weights, others are aftermarket. A bar-end weight uses the same principles as described above (increasing handlebar mass) to reduce vibration, however they are installed at the ends of the handlebars, rather than inside the bars themselves. They will work just as effectively (assuming that they are the same weight as a damper inside of the handlebar), but can be rather unsightly if you prefer a clean look for your bike.

Because my dampers install inside of your handlebars, they are completely invisible once installed. Also, some factory and aftermarket grips are not set up to allow a weight to be attached to the end of the handlebar. Because my dampers are inside of the handlebar, they will not interfere with your grips.
---
Easy Installation and Removal
Once you have removed the grips on your bike, you simply slip my dampers in the end of the bars and tighten up the retaining mechanism with a Phillips head screwdriver. This super simple installation and removal makes it easy to try these dampers in multiple bikes, or if you often rent or borrow motorcycles, you can install these in the bars for more comfort and then easily remove them before returning the bike.

For details about what exactly is involved to install these dampers, check out the full color install instructions in Adobe PDF format.

You can also view an installation/removal video on YouTube.


---
Applications
These vibration dampers are designed for motorcycles with 1" handlebars. They will work with any motorcycle that has handlebars with an inside diameter of just over 3/4", and approximately 5.75 inches of available depth. (These dampers are also available in a 7/8" version.)
---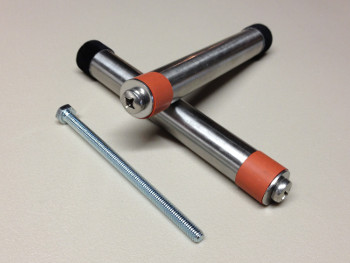 Pictured on this page are the components included in the kit. You will receive two stainless steel weights with the stainless steel and silicone retaining mechanism fully assembled, ready to install. Also included is a long machine screw to assist in the removal of the weight from your handlebar. (This is usually not necessary, but is included as a convenience to you. If you happen to unscrew the retaining mechanism from the weight during removal, the long machine screw makes it easy to pull the weight out of your handlebar.) Of course, you will also receive installation instructions with full color photos. Besides the tools you might need to remove your motorcycle's grips, the only tool required to install or remove the dampers themselves is a large Phillips head screwdriver and possibly a pair of needle nose pliers.


---
Lifetime Warranty



I stand behind my product and I want you to be happy with your purchase.

These motorcycle handlebar vibration dampers are warranted to the original purchaser to be free from defects in materials and workmanship for as long as you own them.

I am very careful during the manufacturing process and quality control inspection to weed out anything that could potentially cause a problem down the road. However, as is the case with any mechanical item, there is always a chance for failure no matter how controlled the manufacturing process may be. As such, should this product break or prove unsatisfactory to you, please contact me and I will be happy to replace it or refund your purchase price. (In the event of a warranty claim, you will be responsible for the postage cost to mail the product back to me, but I will cover the cost of shipping the replacement to you.)


---
Testimonials

Click Here to read customer testimonials about this product. Since this is a fairly new product, I do not yet have many testimonials to display, however you are welcome to view the testimonials for my very similar Suzuki Intruder specific kit (upon which this kit is based) by clicking here.

---
---
| | |
| --- | --- |
| Home | © 1999-2021 by Steiger Performance. All rights reserved. |