Steiger Performance Handlebar Vibration Dampers
(For Suzuki Intruder)
Note: These dampers were designed to be used on model year 1999 and older Intruders with stock or aftermarket grips and also on 2000 and newer Intruders with aftermarket grips. If your Intruder is a 2000 or newer with stock grips and bar-end weights, then you want part number SP50003 instead.
---
General Info
When I first bought my Intruder 1400, my only real complaint was that my hands would frequently fall asleep; I'd be constantly clenching my fists or slapping my hands against my legs to try to get rid of the "pins and needles". This is caused by vibration, and it affects some people more than others.

Handlebar vibration is a fact of life when you ride a big v-twin, but there are certain things you can do to reduce it. One of these is by rubber mounting the engine and the handlebars; Suzuki took care of this at the factory. Another step that some manufacturers take is to mount weights in the handlebars. What this does is to increase the mass of the ends of the handlebars, and therefore, the amount of force required to move them. Vibration is a "cycle"; it moves an object in one direction, stops it, then moves it back in the other direction before stopping it and starting the cycle all over again. By making the object heavier, we increase its inertia; its tendency to stay at rest while at rest and its tendency to stay in motion once moving. If we make the handlebars heavier, the vibration will still try to move it in the same way as before, but now it must put a much heavier object into motion, stop it, move it back in the opposite direction, etc. What this means in practical terms is that the movement will be less, since more of the "input" energy is dissipated. As I mentioned before, some bikes have these weights (or vibration dampers as they are commonly called) installed at the factory. Regrettably, the Intruder is not one of these bikes. Fortunately, it is a relatively simple matter to add them, and some Intruder owners have done so, by simply wrapping a 3/4" bar of steel in an old piece of inner tube and with the application of some lubricant, inserting it into the handlebar.

I decided to bring my own vibration dampers to market because I am happy with the reduction in vibration they caused and I believe they offer some benefits over the "do it yourself" method:


Convenience:

You don't have to run around scrounging the components you'll need, you just click your mouse and they show up on your doorstep a few days later.



Ease of installation:

There's no need for messy lubricant or to force the weight into place. A single strip of rubber per bar allows the weight to install and remove easily, yet be held firmly in place while riding. Plus, the ends of the weights are machined with an 6mm-1.0 thread, which will allow you to thread a bolt into the weight and grab it with a vice grips or pliers, should that be necessary. Also, the bolt helps to install the weight to the proper depth.



Corrosion resistance:

My vibration dampers are machined from T-304 stainless steel, as opposed to standard cold rolled steel, so they're not going to rust up on you.



Weight:

T-304 Stainless is slightly heavier than cold rolled steel, so as an added bonus, the vibration dampening properties are bound to be slightly better as well. My dampers weigh approximately 10 ounces each, so they will give you a total of around 1.25 lbs of vibration dampening mass.
So, do they work? Yes! I'm using them on my 1400, and I'm happy with the results. Note that although a vibration damper won't completely eliminate the vibration, they WILL reduce it, and every little bit helps! I noticed a marked improvement with the dampers installed while using my stock grips and the combination of these dampers with a pair of KuryAkyn ISO grips was a very noticeable improvement.

For details about what exactly is involved to install these dampers, check out the full color install instructions in Adobe PDF format.



---
Applications
The prototyping for this kit was done on my '96 Suzuki Intruder 1400. I do know that there were some handlebar changes throughout the years, so it is certainly possible that these may not work on some bikes. However, if such is the case, please contact me and I would be happy to refund your purchase price (less shipping) if you are able to return the kit to me in re-saleable condition. These dampers are being used in 800, 1400 and 1500 Intruders. If you are concerned about whether or not they will fit, it is fairly easy to check - just measure your handlebars. As long as you have bars which are just over 3/4" interior diameter and you have at least 5.25" of length available, they should work in your bike. (Probably these will work in many bikes besides Intruders...)

Note: 2000 and later Intruders already have vibration dampers, which changed the design of the grip ends. If you have a 2000 or newer Intruder and want to add additional vibration dampers, then you want part number SP50003 instead. However, if you have replaced your grips with a style that eliminated the bar-end weights (KuryAkyn ISO grips, for example), then you are in the right place! This is the kit you need.

Note that if you are installing these with KuryAkyn ISO grips, you cannot simply remove the end caps to insert these dampers; they will not fit through the holes in the ends of the grips; you must remove the ISO grips, install the dampers and then re-install the grips.
---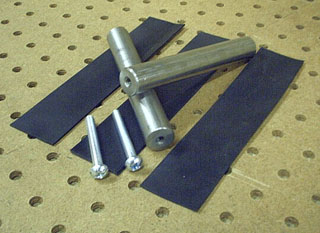 Pictured on this page are the components included in the kit. You will receive two 5" by 3/4" stainless steel weights, three rubber retaining strips, and two 6mm-1.0 installation/removal machine screws. You will also receive illustrated installation instructions. The only tool required for installation is a pair of scissors or a razor blade (used to trim the rubber retaining strips), and possibly a screwdriver and a pair of pliers.

---
---